Best digital piano for beginners [2020]
Digital piano can be a dream of yours . Choosing the right instrument in a right time is a best decision to learn and enjoy it. its very important as a beginner. Here we discuss and you can compare different digital piano models one by one . here we go,
Best digital piano top 10 in [2020]?
There are so many options it's hard to definitively say which one is the best digital piano or the best keyboard piano. So, we try to take various factors into account. First and foremost, we focus on the piano sound, other voices are important but for the purpose of our list, they are a secondary concern.
For any instruments that appear in more than one list, keep in mind that the pros and cons may be slightly different. For example, many digital pianos on this list may be too complex for a beginner and therefore would have different cons on our best for beginners list.
Yamaha YDP-184
This is built around the sound of Yamaha's CFX 9′ concert grand piano and it's absolutely beautiful. This is one for the purists looking for the ultimate piano experience. The experience can be enhanced by adjusting parameters like string and damper resonance with Virtual Resonance Modeling (VRM). This mimics in great detail the way string vibration reflects off the soundboard causes other strings to vibrate.
One of the best things about the YDP-184 is the expressiveness of the weighted keys. The graded hammer action keys are the best example of progression from low end to high end on our list. There are 24 voices including electric pianos and 256-note max polyphony. The MIDI record function lets you record your playing and USB connectivity makes it easy to connect to other devices.
Everything with this piano is about being authentic, even when playing with headphones the stereophonic optimizer recreates the experience of an acoustic piano. Sound is dispersed in a way that suggests it's coming from the body of the instrument.
Yamaha CP88
This is a premium stage piano for performers, producers, and songwriters. Despite being incredibly powerful, the CP88 is very easy to use thanks to its intuitive design. The keyboard is light by comparison which is great for gigging but it's built to handle a few knocks too.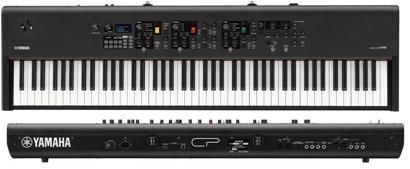 There are 3 gorgeous grand pianos including the Yamaha CFX, Yamaha S700, and the Bösendorfer Imperial 290. All three of these voices have been recorded with incredible detail. There are 2 upright pianos, which are the U1 and Yamaha's flagship upright piano, the SU7.
There is quite a wide range of voices available from synths to strings but most notable after the pianos are the electric pianos. Yamaha's iconic CP70 and CP80 electric grand pianos have been perfectly sampled for the CP88.
Kawai MP11SE
Kawai takes the MP11SE to have the most realistic keyboard action of and keyboard piano and they aren't far wrong. They have extended the pivot point on the hammer action keys to match that of the Shigeru concert grand piano.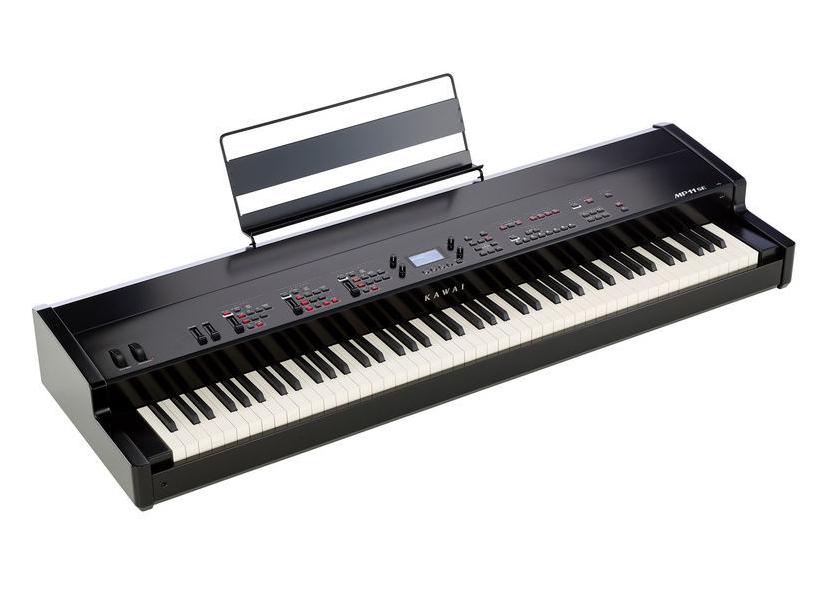 The MP11SE doesn't have a huge selection of voices, there are some lovely electric pianos but it's really all about the grand pianos with this one. It's very easy to tweak your sound till it's just right with the Virtual Technician technology and independent sections for pianos and electric pianos on the keyboards main panel.
MP11SE Sample video from youtube
Casio CGP-700
At the midpoint of our list, we have gone for something that is a bit more of an all-rounder, the popular Casio CGP-700. Typical of a Casio instrument, the CGP-700 offers exceptional value for money. Packed with 550 different voices and 200 rhythms, there isn't much that you won't find here.
All of these voices and rhythms can be accessed via the 5.3″ color touch panel. The touch panel is icon based so it's very quick and easy to get around. It has USB recording capability plus a 17-track sequencer which is huge for a keyboard of this type. The included wooden stand houses the 40w 6 speaker system that can be adjusted to face the player or the audience.
Reference youtube
Nord Stage 3
The Stage 3 is split into 3 sections, piano, synth, and organ, each of which is highly customizable. The memory for the piano and synth sections has been significantly increased to allow for much deeper sampling. This means the sound quality is now better than ever before.
The organ section emulates a vintage rotary speaker and has physical drawbars for realistic tone control. The synth section has a dedicated OLED display to easily adjust various parameters. The layer and split functions have been enhanced since the previous model with some very nice additions like optional crossfade.
Korg Grandstage 88
This is continually getting better at making their instruments very intuitive and easy to control. The Grandstage 88 has a 3-band EQ and 4 insert effects that can be easily adjusted while playing to precisely shape your tone in real-time. The layout is perfect with a dedicated dynamics section and a favourites section that lets you recall your most used voices quickly.
However, the variety is not as wide as the amount suggests with most voices being subtle variations of others.
Roland RP501R
This bridges the gap between advanced and beginner with some nice tuition features like dual split. It also has some really good interactive learning material via the Roland app. The record function lets you record directly to the piano's internal memory or to a USB flash drive.
Casio PX-S3000
This keyboard marks the biggest advancement in technology the Casio Privia range has seen since the original. The PX -S3000 is the worlds slimmest keyboard piano and it looks super cool. The sleek casing is finished in a glossy black befits a concert grand piano.
Unbelievably, due to its slimline design, the PX-S3000 has the most advanced hammer action keys in the entire range. Casio's Smart Scaled Hammer Action simulates a unique touch response for every individual key.
The advanced AiR piano engine delivers a very rich, expressive tone which compliments the weighted keys very well. There are 700 voices which can be layered or split in various ways. You can save your created combinations using 96 registration memories and access them easily.The PX-S3000 has USB recording capability and 200 smart styles to accompany your playing.
Yamaha DGX-660
The Yamaha DGX-660 is a bit of a curveball on our list because it has some features that are usually limited to workstation keyboards. Most notably is the 6-track sequencer which means you can start thinking about music production and arrangement rather than just playing. The piano sounds come from Yamaha's Pure CF sound engine, it's not as expressive as the CFX 9′ concert grand engine but it's very nice in its own right.
The Pure CF sound engine delivers some iconic sounds found on flagship models like the Motif range, it has over 150 voices and 16 drum kits. Another rare feature is that the DGX-660 is compatible with XG song files which are included in some Hal Leonard songbooks. This is part of Yamaha's Educational Suite and is a very useful tool for building up your repertoire.
Alesis Recital Pro
The weight of the keys is a little lighter than it should be but they do offer some resistance.It may be lacking in quality compared to our top 10 picks but it comes at a fraction of the price. So, if you just want a decent/good piano sound, weighted keys, and something that doesn't break the bank, the Alesis Recital Pro is well worth a look.
As always, I suggest you try multiple options before making any purchase. All of these pianos are very good but each player has their own preferences. Whatever one you choose, you choose you can't go wrong with any of our top 10 picks.